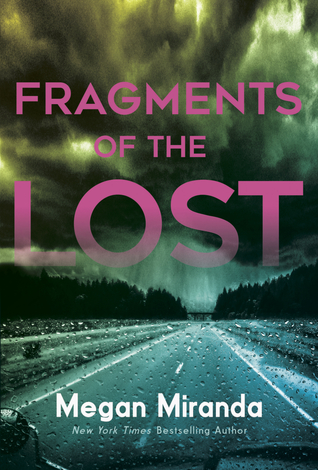 From the New York Times bestselling author of All the Missing Girls and The Perfect Stranger comes a suspenseful psychological mystery about one girl's search to uncover the truth behind her ex-boyfriend's death. Perfect for fans of We Were Liars and 13 Reasons Why . 
Jessa Whitworth knew she didn't belong in her ex-boyfriend Caleb's room. But she couldn't deny that she was everywhere–in his photos, his neatly folded T-shirts, even the butterfly necklace in his jeans pocket . . . the one she gave him for safe keeping on that day.
His mother asked her to pack up his things–even though she blames Jessa for his accident. How could she say no? And maybe, just maybe, it will help her work through the guilt she feels about their final moments together.
But as Jessa begins to box up the pieces of Caleb's life, they trigger memories that make Jessa realize their past relationship may not be exactly as she remembered. And she starts to question whether she really knew Caleb at all.
Each fragment of his life reveals a new clue that propels Jessa to search for the truth about Caleb's accident. What really happened on the storm-swept bridge?
I have been looking forward to reading Megan Miranda's newest publication, marketed as a blend of YA and psychological mystery genres. I love the subtlety and finesse with which this author plays with words, an aspect I have been able to find not only in Fragments of the Lost , but also in The Perfect Stranger and thoroughly enjoyed All the Missing Girls. However, aside from the exquisite, almost lyrical style of writing employed, this novel did not offer the kind of reading experience I would have expected from a novelist of Megan Miranda's calibre. The incredibly slow pace characterizing over half of Fragments of the Lost did not allow me to be fully concentrated on what was going on as I was often drifting off due to a slight sense of boredom. On top of that, the characters were not particularly likeable, from my point of view, although I found the dynamics of the relationship between Jessa and Max rather interesting. The suspense was intelligently built up, but the revelation, albeit unforeseen, did not shock me and therefore did not make up for a very much needed faster pace and quite bland characters. While I may sound very critical of this novel, the overall experience was not a negative one, but perhaps I just expect Megan Miranda to reproduce the level of quality, complexity and cleverness attained in All the Missing Girls. Most of my Goodreads friends have written very positive reviews of this book so I am evidently very much in minority with the few displeasures I pointed out.
Rating: