An outlaw motorcycle club sets up shop next door to Sea Haven in the dangerously sexy new series from #1 New York Timesbestselling author Christine Feehan.
A brutal education in a Russian training facility for assassins has taught this group of men one thing:
It's a long road to redemption.
As the enforcer of the Torpedo Ink motorcycle club, Reaper lives for riding and fighting. He's a stone-cold killer who turns his wrath on those who deserve it. Feelings are a weakness he can't afford–until a gorgeous bartender gets under his skin . . .
Near Sea Haven, the small town of Caspar has given Anya Rafferty a new lease on life. And she's desperate to hold on to her job at the biker bar, even if the scariest member of the club seems to have it out for her. But Reaper's imposing presence and smoldering looks just ratchet up the heat.
Anya's touch is everything Reaper doesn't want – and it brands him to the bone. But when her secrets catch up with her, Reaper will have to choose between Anya and his club–his heart and his soul.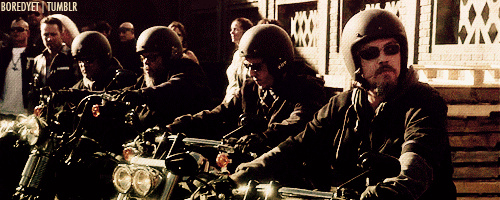 I am addicted to MC Romance so when I saw the latest cover with a biker on it this baby got my attention. So, I gave it a chance and it was the best decision ever! I can't even put into words how much I enjoyed this book, it was that good.I liked that this group of people escaped, stayed together, supported each other and made it a priority to hunt down and "take care of" pedophiles and save the kids involved.
First, let me say that I did really enjoy most of the book. Feehan + Motorcycle club? What's not to like? I was a little surprised she started with Reaper simply because from what we saw in Bound Together he seemed like the most messed up member of the club but once I was introduced to Anya and saw how they were together I realized that it had to start with Reaper. The other club members need to see that if he can have hope they could too. Seeing Blythe and Viktor wasn't enough because they all consider Viktor the best of them so they still don't believe they could find love too. Despite what I'm going to put in the spoiler tag at the end here, I did really like both Reaper and Anya's characters. They complemented each other. Anya was especially impressive because of the all the shit that got thrown at her but she stayed strong.


"He was desperate for her to see inside, to look past all the layers of darkness and find that part of him she'd touched. The part that needed her to save him."

Reaper and the others that make up the Torpedo Ink MC are hardened trained assassins and have never been taught the normal, common sense ways of forming relationships and behaving. Reaper found it extremely hard to process these feelings he was having and how to express them to Anya, without making a total mess of it. It was important for this to be conveyed throughout the story because this wasn't the norm for them and how they had each other's back and wanted to make changes. Anya was a tough character and didn't have it easy either with her past and no family for her to count on. These two characters did some major growth and knew they had to take baby steps in order to have a chance at a good life
together.
This action and the emotion-filled story filled all the nooks and crannies it needed to get me out of a lowly book funk. I've already re-read this again as I read it so fast the first time around I needed to experience it again.
Things are set up for book 2, and I'm super excited for that to come out. Now that I've been introduced to these wildly fascinating characters, I can't wait to read more.
A big thank you to Piatkus Books for the copy.
If you want to buy this lovely book, you can do it with a click here