All's fair in love and war.
The first standalone romance by New York Times and #1 international bestselling author Christina Lauren (Beautiful Bastard) is a sexy, compulsively readable romance that dives headlong into the thrill and doubt of modern love.
Despite a meet-awkward at a mutual friend's party, Carter and Evie immediately hit it off. Even the realization that they're both high-powered agents at competing firms in Hollywood isn't enough to smother the flames.
But when their two agencies merge-causing the pair to vie for the same position-all bets are off. What could have been a beautiful, blossoming romance turns into an all-out war of sabotage? Carter and Evie are both thirty-something professionals-so why can't they act like it?
When push comes to shove and love fights with hate, will these two ever get their fairy tale Hollywood ending?
'A smart, sexy romance for readers who thrive on girl power.' Kirkus Reviews
I have to be honest and say that I had mixed feelings about this book at the beginning.  The title of the book reminded me so much of The Hating Game that after finishing it, I had to reread The hating game. And because I loved both books so much, I just fall into a reading slump and … more than a month not being able to read, was a nightmare!
In essence Dating you/Hating you was a really good book, with two characters that a lot of people can relate. Their story is not a love at first sight and I think that was one of the things I liked the most about this book.  I don't believe in love at first sight because it usually happens only in books and not real life and the fact that the authors did not apply that in this book was a hit, at least for me. This was more lovers to enemies and back to lovers book and some of the scenes were hilarious!
"Simply put, Evelyn Abbey is my former almost-girlfriend-turned-archnemesis-turned-tentative-ally whom I would now very much like to permanently seduce."
But when their companies merge, the problems start for Evie and Carter. Both are competitive and are trying to sabotage each other, even if they have a relationship. They are both married to their work which you can totally notice during the book.And I think a lot of people can relate to that, especially if you're over 25 years old.Who has time for romance?
"We're in the same business."
I watch him process this for a breath, and he chews on his lip before saying, "Maybe it's not ideal, but it's not worth staying away from you because of it."
… "I'm notoriously married to my job."
"That's super convenient because so am I. It'll be like we're cheating on our jobs with each other."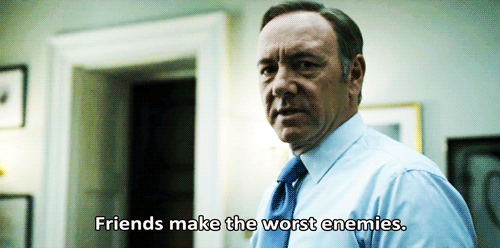 Another thing that I liked about this book is the way Christina Lauren managed to write the sexism at work. Evie's boss was a misogynist, at least in my opinion. You might not notice at first because it is so subtle, but it's there.And I gotta say- Good job, ladies, good job!
Bonus points for Carter for trying to fight that.
The writing was intelligent making the words flowing with every page and the descriptions and scenes made you feel like you were watching a movie.
I really liked reading a book where you have to learn how not to hate the person who you're falling in love with when you both compete for the same job.
Thank you to Piatkus Books for providing me with a copy for review.
You can buy Dating You Hating you with a click here